In the 2023 Portugal MotoGP series which was held at the Algarve Circuit, Portimao, Portugal, on Sunday 26 March 2023. The fierce duel that occurred in the 2023 Portugal MotoGP Race had an incident.
The incident that occurred involved racer Marc Marquez crashing into the racer in front of him, Miguel Oliveira. The incident that happened also caught the attention of the audience so it was busy being discussed.
NoLimit Dashboard analyzes conversations on social media regarding the 2023 Portugal MotoGP match.
Day to Day Talk
NoLimit has been monitoring social media since March 25, 2023, until now. There are 72,869 discussions on social media using keywords and Hashtags MotoGP, MotoGP 2023, and MotoGP Portugal 2023.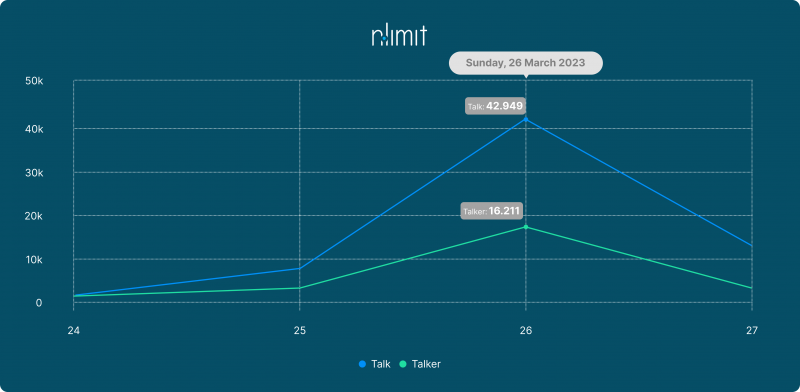 From the picture above it can be seen that the conversation increased on February 26, 2023, the day the match was held with 42,949 talks.
Top Talker
In addition to the number of conversations, the NoLimit Dashboard can also see the top talkers. Top talkers are accounts that talk about a certain topic the most. In the match that was just held, the account with the name @yuichi220mp4 became the top talker with a total of 310 talks.

WordCloud
WordCloud is the word most often said by netizens on social media. The more often the word is mentioned the bigger and thicker the word is displayed.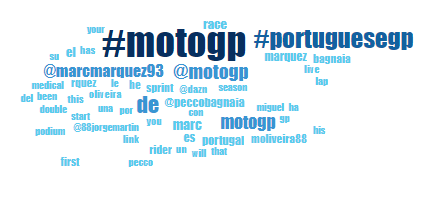 As shown above, you can see that #motogp, #portuguesegp, motogp, and @marcmarquez93 are bigger in size. This shows that the sentence is most discussed by netizens.
Here are some analysis results using the NoLimit Dashboard. NoLimit Dashboard is a media monitoring tool that can make it easier for you to analyze social media and media monitoring.
How do NoLimit friends respond to MotoGP Portugal 2023. Give your feedback in the comments column.